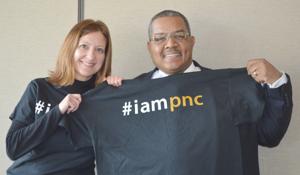 I Am PNC
Marie Foster of Purdue University North Central presents Clarence Hulse, executive director of Economic Development Corporation Michigan City, with a "#iampnc" T-shirt to gain his support for the PNC donation drive. Administrators at PNC wear this T-shirt on Wednesdays to show support for the university's video. It can be seen by following "#iampnc" on Facebook, Twitter and Instagram. Whichever Purdue campus' video gets the most shares on social media will get an extra portion from the Day of Giving fundraising on April 29.
MICHIGAN CITY — The unemployment rate in Michigan City rose from 9.6 percent in September to 11.8 percent in December, according to data from the Indiana Department of Economic Development. During the same time, the city's labor force rose from 13,056 to 13,301.
During 2015's first meeting of the Workforce Development and Education Taskforce of Economic Development Corporation Michigan City, representatives of Michigan City businesses and community organizations expressed puzzlement at the possibility that a larger workforce has fewer jobs.
Stefan Barkow, data researcher and analyst at the Center for Workforce Innovations, said the numbers may just be wrong. Researches are looking into that possibility.
Because time of year can be important for ranking the workforce, his report emphasized the city's labor force changed from 12,749 in December 2013 to 13,301 in December 2014.
Tony Sindone, continuing lecturer in economics at Purdue University North Central, said he developed several theories for why this may be the case. He noted the increase in the city's labor force is close to the number the La Porte's workforce decreased.
He looked into the possibility that companies have changed offices from La Porte to Michigan City, but he has not found that to be the case.
The figure represents the U-3 version of counting unemployment in which people are counted if they have no job at all and have looked in the past four weeks. However, these data were not seasonally adjusted.
La Porte County Career and Technical Education Director Audra Peterson said the numbers for the 2015-16 enrollment in the A.K. Smith Career Center are good with the exception of fire science and manufacturing.
She wanted to have 15 county high school students for fire science, but the center only has eight so far. She thinks the center can still go through with the program, but she is hoping for a staff assistant from the Fire Chief's Association.
She said the numbers for welding are slightly lower this year.
She has been having difficulty placing teachers into a one-week summer internship program. Teachers would work to gain familiarity in new fields.
The program does not receive state tax credits or funding, and teachers are contractually obligated to $1,000 a week for summer work. Businesses have not wanted to pay this much, she said, so her center would have to pay.
Sindone suggested Peterson try to convince businesses by focusing on how the teachers could develop the workforce in the community.
The center still is focusing on WorkKeys, a state skill-assessment program, because businesses use it, Peterson said.
Senior Workforce Associate Tammy Stump of the Center for Workforce Innovations said people may take WorkKeys at no cost at WorkOne offices in Michigan City and La Porte.
Marie Foster, director of advancement at PNC, said applications have doubled compared to this time last year. She also is excited about the merger with Purdue University Calumet, especially because some businesses came to the recent job fair at PNC due to the association with the other campus.