We're Here to Help
Prosperity takes root with us. At the Economic Development Corporation Michigan City (EDCMC), we recognize that people are at the core of our thriving companies and communities. That is why our mission is driven by focusing on tailored guidance to launch, develop or bring your business here. We are a private nonprofit uniquely able to connect all of the dots. We are your connection to resources, information, expertise, properties and talent to bridge the gap between opportunity and success. We are much more than just economic development.

Population
U.S. Census estimate as of July 1st, 2019

Manufacturing Jobs

Gross Regional Product
Silver Anniversary
The EDCMC team is marking 25 years of impact, momentum and growth with a Silver Anniversary Gala at 5:30 p.m. Thursday July 21 at the Blue Chip Hotel &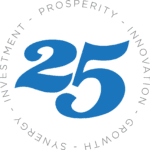 Casino.
The event will include awards that will recognize business and community leaders who have been an integral part of moving Michigan City forward. Online tickets will be available soon, and sponsorship opportunities are now available by contacting us at 219-873-1211 or admin@edcmc.com.
Featured Buildings & Sites