Michigan City, IN – Listing Leaders Homes & Specialty Properties, a full-service real estate brokerage firm offering a full suite of real estate services and creative client solutions, is launching an office in the Uptown area of Michigan City. The new office will house sales, marketing and operations personnel.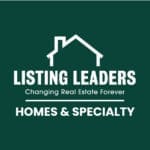 "The investment potential of Michigan City is undeniable. With its diverse community and investment landscape, it is clear that Michigan City is a top destination for investment, development living and leisure," said Justin Berggren, Listing Leaders Homes & Specialty Properties Founder and CEO. "I see a high level of commitment from public and private players as plans move forward. I knew we had to be part of the city's next stage of growth."
"We are excited to have Listing Leaders expand into Michigan City," said Michigan City Mayor Duane Parry. "Listing Leaders is committed to giving back to Northwest Indiana and adding high-paying career opportunities."
"Quality of life and amenities continue to give us a winning edge on the talent competition when companies are seeking new locations. Our community is getting lots of attention due to our past and current recreational investments," added EDCMC Executive Director Clarence Hulse.
Listing Leaders Homes & Specialty Properties is a licensed brokerage in Illinois and Indiana. It is a partner of the Listing Leaders Real Estate brand and brokerage that includes more than 400 licensed brokers. Berggren also founded and operates the Listing Leaders Real Estate School & Training out of the corporate headquarters in Merrillville.
The office will be located at 622 Franklin St. with further growth planned. The company has approximately 30 brokers and is looking to get involved in the community.
"Real estate is personal – it is local," Berggren said. "We are here to make an impact and be a part of our region's future growth."
For more, click here.